ACCURATE
(Software Solutions for Rent –A-Car Companies)
Customers' expectation has spurred the entrepreneurs into excelling at every point to remain perched on their present position. The ever rising customers' expectation has-forced the companies to turn to highly researched and innovative management software solutions enabiling them to provide better services and uphold the company's reputation.
One such value added software solution has been developed to shift the auto rental industry into top gear, with the legend "ACCURATE" capable of customizing itself for any eventualities. This highly successful package in the Middle East enabled companies involved in rental operations, centralized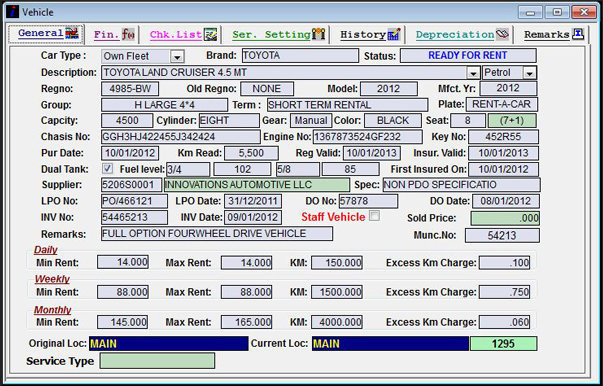 ACCURATE is designed to be the back office software for your car rental operations. From the moment a new booking is received the central software will tell you at a glance which vehicles are available at which location and when. The car rental software then continues to track every contract and every aspect of your operation from vehicle maintenance, right through to the reporting of sales, customers, rates and vehicle utilization analysis. Warning can be activated for possible service the or insurance and registration renewals.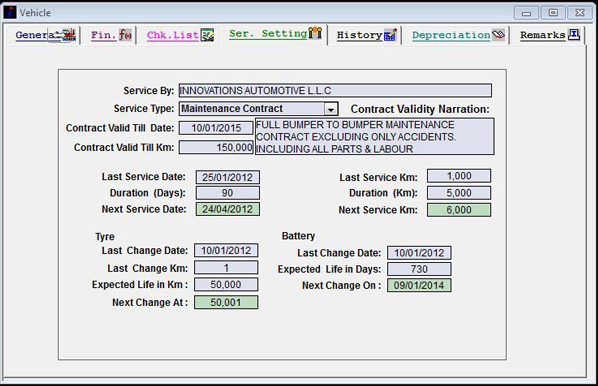 Developed according to the latest GUI standards, this point and click software is designed to save time on training and money and is enviably unmatched in performance, functionality and enhanced multi-user support devoid in comparable systems and has the capability to be used as a standalone application. The extensive features of ACCURATE simplify your business flow and reduce your administration and accounting costs.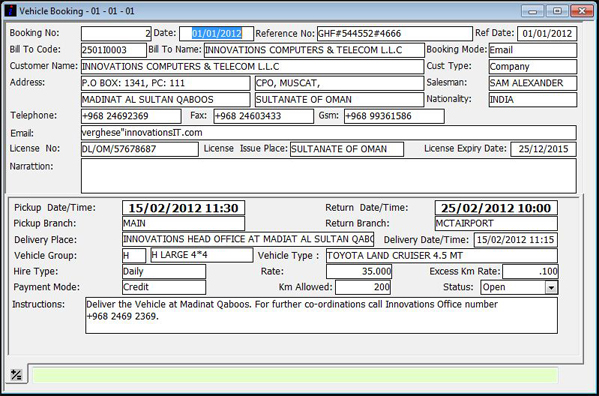 ACCURATE controls every type of rental contract like Daily! Weekly! Monthly/ Long Lease etc., calculate and print contracts, prints payment vouchers and receipt vouchers. It has a powerful 'search on fields' facility in contracts and the other sections. It supports cash payment and multiple credit card payments.
The car picture gallery pin-points the availability and choice of car. This can be made possible by simply taking the picture using a mobile phone or a digital camera and loading the same in the database. Registration details along with the image of registration card can be stored, accessed and have the same printed.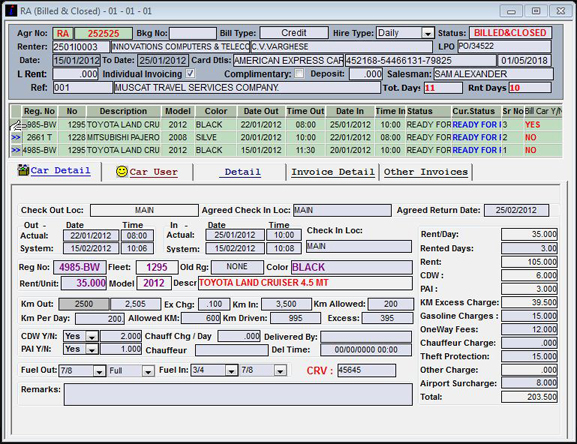 ACCURATE'S fleet control is a powerful management solution, suitable for any size of operation and any type of vehicles. It is flexible enough to handle a small fleet with only a dozen vehicles to a larger fleet operation with thousands of vehicles. The same fleet of vehicles can be dedicated to a single office operation or can be shared by multiple offices. Multiple owners and multiple pools of vehicles can simultaneously operate and share multiple offices. ACCURATE monitors every single vehicle's performance and tracks its up-to-date status and condition. At any time, ACCURATE is able to show vehicles' current status. It greatly improves fleet controllability, productivity and profitability.
ACCURATE ensures profits and growth to user establishments, high productivity minimizes errors, eliminates accounting problems, recovery of vehicle damage cost and many other features, including providing a gallery of vehicle inventory and optimum utility of the fleet to every operator.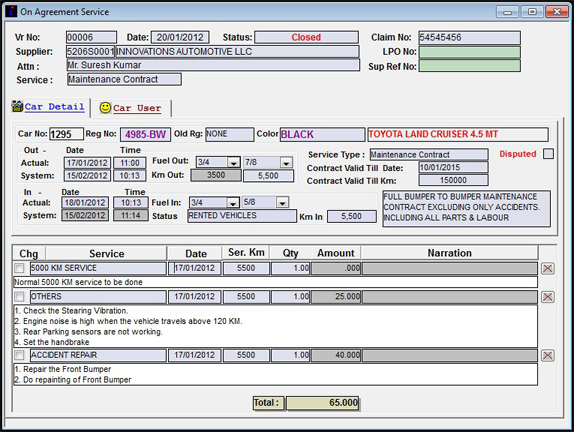 ACCURATE provides high security control over the system without sacrificing flexibility and ease-of-use. Privileges may be granted or revoked to individual users to access afferent modules via the "user rights" setting.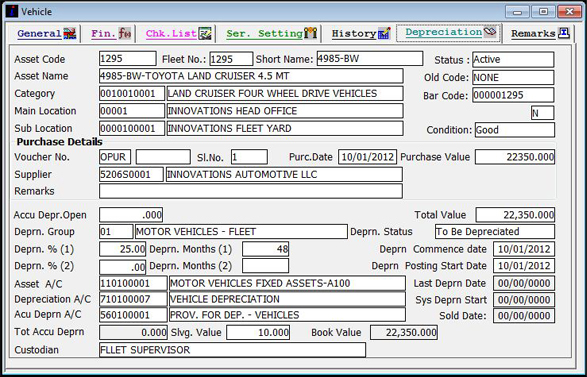 ACCURATE is ideally suited for short and long term rental operations, requiring automated functionalities for generating periodic invoices, communicating with the long term corporate account holders, other users and management system. ACCURATE enables comprehensive reporting, underlining invoice prorating and reservation interfacing as part of the program's solution. The superior framework and architecture works in perfect cadence with delivering tailor-made automations for niche market requirements.
Features
Provision to Manage Multiple Branches.
Fully Integrated to Financial Accounting & Fixed Assets.
Developed for Middle East Standards.
Supports Two and Three Decimals.
Customer Enquiries.
Customer Follow up.
Rental Booking.
Rental Agreements (Daily / Weekly / Monthly).
Lease Agreements.
AirpAgreementsort Transfer
Non Revenue Agreements.
Package Rental Agreements.
Complementary Rental Agreements.
Unlimited replacement against same Agreement.
Lease and Monthly agreements can be kept open and multiple billing can be done.
Provision for multiple Car Users in the same Agreement.
Inter Branch Vehicle Transfers.
Vehicle Income Generation Details.
Time & Mileage and fuel charges are automatically calculated and carried forward.
Consolidated Invoicing for multiple Rental Agreements to the same Customer.
Workshop Tickets Generation.
LPO Generation for Maintenance against Workshop Ticket.
LPO Generation for Fleet Purchase & Other Purchases.
View a customer's agreement history during the open agreement process.
Daily Vehicle Movement Report.
Automatically updates the customer database while processing an agreement
Check-in, check-out information for each vehicle is shown clearly on the agreement Screen.
Easily locate the Agreement with a parking/speeding ticket and bill the violators with a corresponding Invoice.
Guarantee superior customer service by retrieving your customers renting information quickly and efficiently.