ACCURATE

- Payroll
(Payroll Accounting Solutions)
Payroll module of ACCURATE is developed specifically for the Middle East based firms. It has captured in it all the Payroll processes that a typical HR/Accounts department of a small/medium/large seed company follows.
QuickStart feature and Window menus make our software quick and easy to set up, use and under6nd. The person operating the Payroll software can bid farewell to the bulky registers and come out of the gloom that used to surround him during the payroll generation. With all the processes categorized the software gives a very simple interface to the end user. ACCURATE payroll system Is designed with optimum flexibility to accommodate payrolls of all sizes-from small reality businesses to large corporations.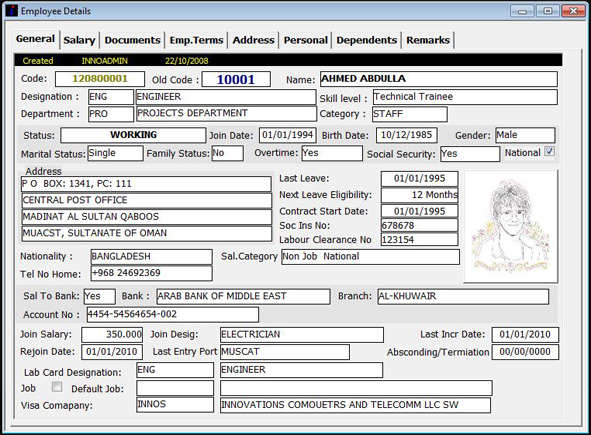 The Payroll software starts off from formation of a Company and the branch offices. Then it Inputs the Employee related information and in which group company/department he is recruited. lust assign the employee a salary structure and you are ready to generate and manage payroll processes with respect to that employee. Also the end user has the flexibility to create his own salary structures and salary formulae.
The pay slip is generated after the attendance is marked for that month. All the reports related to company, employee, attendance/leave, gratuity, air passage fare, payroll, Passport/Visa expiry date reminder are available at the convenience of a mouse dick. The software also manages the Company and the Public holidays.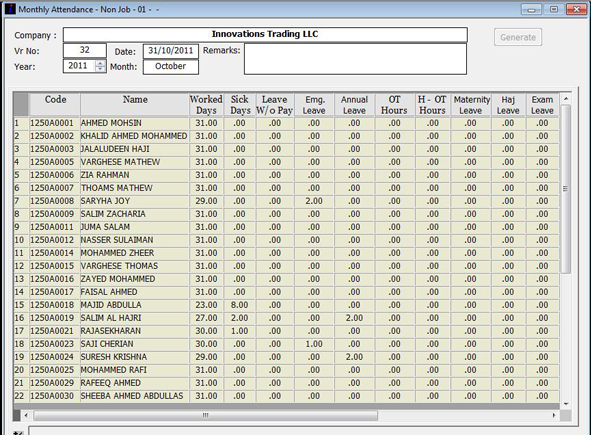 The MIR (Management Information Reports) are also generated by the software which gives the Management a dear picture about the Payroll and Attendance of the Employees. The software can be configured by the user to give restricted access to the front desk operator and complete access to the main HR authorized person.
The versatility of accurate payroll service is our unique ability and willingness to adapt our spanner and service to each clients need. ACCURATE accommodates any combination of incomes, deductions, benefits and vacation, as well as a number of reports, including many user defined reports.